Our journey starts in New Delhi. As we are all coming from different countries, our first meeting point will be in the capital of India.
Even though we have a time limitation of twenty one days, we don´t have a fixed schedule in this travel. We have a plan and an openness to change it, may it be because of the climate or problems in the road or just because the group feels to stay longer or shorter somewhere.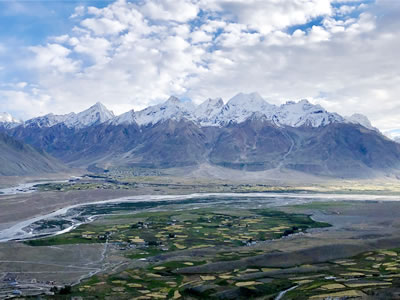 For the season 2018, it will be one trip in August and another in September.
August: From the 5th to 25th
September: From the 2th to 22th September.
Day 1: Meeting in Delhi. Pick up from airport and transport to the hotel. Overnight in Hotel Jyoti Mahal in Delhi.
Day 2: Flight from Delhi to Leh and direct transport to Likhir where we will do the Meditation Retreat in No Mind Retreat Hotel.
Day 3-4-5: Meditation Retreat.
Day 6: Leh, overnight in Hotel Leh Chen.
Day 7-8-9: Nubra Valley, accommodation in Hunder village.
Day 10: Leh. Hotel Leh Chen.
Day 11: From Leh to Alchi and Lamayouru. Overnight in Lamayouru. Dragon Guest House.
Day 12-13-14-15: Trekking from Kanji (Indus Valley) to Rangdum (Zanskar Valley). Possibility of going to Rangdum by car for those who can´t do the trek.
Day 16: Rangdum.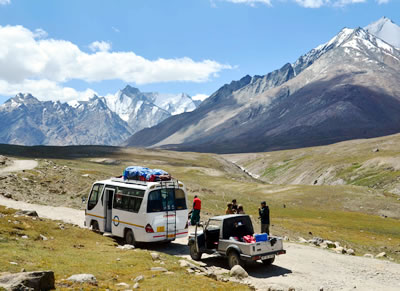 Day 17: From Rangdum to Kargil, overnight in Hotel Chuttuuk.
Day 18: From Kargil to Srinagar, Kashmir, overnight in New Jersey House Boat.
Day 19-20: Srinagar. Accommodation in New Jersey House Boat.
Day 21: Flight from Srinagar to Delhi. End of our wonderful trip.
The first day we stay in Delhi. Sightseeing for those who want to explore the city. From New Delhi we will fly directly to Leh, the capital of Ladakh,  situated at 3500m height.
Our transport will be waiting for us in Leh airport to go directly to Likhir, 50km distance. This first day in ladakhi land will be of rest for acclimatization.
No Mind Retreat Hotel is the beautiful place where we are going to do the 3 days Meditation Retreat. We will enjoy  spectacular views of the mountains from our rooms. A complete  traditional ladakhi building with the comfort of western style rooms. And spacious Meditation Hall where we will practice most of our activities during the retreat.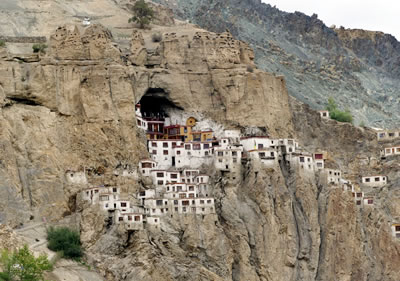 The Retreat will be guided by Unmani. Meeting with oneself and with the other through silence, in the "Being". The practice of different types of meditation will help our mind to "stop" and our body to let go, experiencing reality from the heart with silent and open mind. A quite mind brings inner peace and joy.
The last day of the retreat we visit Likhir Monastery, most than 500 years old. It is one of the most important monasteries of Ladakh.
After the retreat we are ready to travel in openness and receptivity, to receive the amazing beauty of this land and its people. Present, with a clean mind, without stories, without my story.
Before travelling the valleys and villages of Ladakh, we will stay one full day enjoying the city life of Leh, capital of this region. Exploring the city or just resting, walking, shopping and meeting people from all over the world, including many Tibetan refugees.
Our accommodation in Leh is in the Hotel Leh Chen, very comfortable and with spectacular views of Leh valley.
Leh is an old city full of charm and life. Here the Buddhist and the Muslims are living together in a peaceful and harmonious way. It´s beautiful to walk through its narrow cobbled streets crisscrossed by channels of fresh and clear water. Ancient monasteries, stupas, ladakhi traditional houses, mosques, the Muslim and the so different Buddhist quarters…
From Leh to Nubra Valley crossing the Warila pass and traversing small and traditional ladakhi villages located in stunning landscape. We will travel very slowly, stopping many times in the immensity of the mountains and the valleys we pass.
Nubra Valley was traversed during centuries by merchants of the Silk Rout. We will enjoy sand dunes and wild camels, a whole range of beauty and exoticism, mysticism and silence, simplicity and light.
The second day in this valley, we walk from Hunder to Diskit monastery across the desert dunes at around 3400m height. It is magical to do this trek in silence and presence, in total openness to receive. Diskit Monastery is one of the most powerful monasteries of Ladakh. We will meditate here and enjoy the sunset with impressive views of the Valley.
Nubra Valley has border with Pakistan and China, foreigners have limited access, which forces us to return to Leh, this time by the Kardungla pass, 5600m height. The highest motor able pass in the world, and again traversing a spectacular landscape.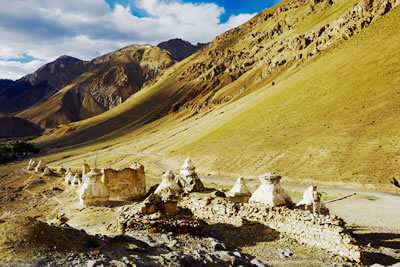 And we start to descend the Mystic Indus Valley, connecting Leh with Srinagar, Ladakh with Kashmir. We will see many Tibetan Monasteries in the way, some of them located in remote and isolated places, stopping in Alchi and Lamayuru,
Alchi is a litle village with the oldest Gompa (monastery) of Ladakh, more than 1000 years old.
We continue down the river towards Lamayuru, a town state located in stunning scenery, surprisingly unusual and colourful. We will spend the night here in Dragon Guest House.
Next day, from Kanji we start the trek to Rangdum, in Zanskar Valley. To trek in Ladakh is to experience being immerse in Silence and Beauty. Spectacular landscape. walking everyday 3 or 4 hours during the 4 days that separate these two villages. There is not any village in the way, so we will use horses and yaks to carry our luggage, tents and food. A local ladakhi guide and his team, will help us to do it in easy and safe way.
Kanji is a little and charming old village where time did stop a while ago. Isolation and self sufficient economy, located in an incredibly beautiful valley, surrounded by colourful mountains of the Himalayas. Friendly people will give us a warming welcome with their yaks and horses for our trek.
By now we are use to be in silence, opening our mind and our heart to be totally present in the moment. The trek is connecting us fully with our being, the pure energy of this natural environment and the beauty we are immerse in during these days, make us feel the divine essence of everything.
The third day of the trek is the hardest. We do the Kanji-la pass, around 5300m height. We have around 7 hours walk, amazing views. Walking step by step following our caravan of yaks and horses.
Everyday  when we arrive to the camp, our team receive us with a tasty cup of tea and snacks. And we will have enough time for ourselves and to share and meditate together.
The last day of the trek is a walk of 4 or 5 hours in "The Paradise", and we will be arriving to Rangdum village.
One day of rest in Rangdum, enjoying the, again, spectacular breath taken beauty of this natural spot. A little village in an immense glacier circus, where the people is living in a total traditional way, completely connected to the natural resources, still a self sufficient economy. The Rangdum Gompa on the top of the hill dominating a full view of the valley. Every day the kids walk the 3km distance from the village to the Gompa where  the school is.
Now we are in Zanskar Valley. One of the most impressive valleys of Ladakh. No words can express what I experience every time I travel in this area. Moving at the bottom of this valley never fails to blow my mind. The vision of looking almost straight up at mountain-tops of 7000m, with some of them carrying glaciers ending just on the other side of the river which I follow, leaves no space for anything but gratitude being allowed to experience this.
There is an alternative option for those who can´t do the trek. They can go by road to Rangdum, via Mulbeck, Kargil and the green and beautiful Suru Valley.
From Rangdum we are going down to Kargil. A very alive Muslim city where we will be overnight in the deluxe Hotel Chutuuk.  By now we have left behind the Tibetan Buddhist communities.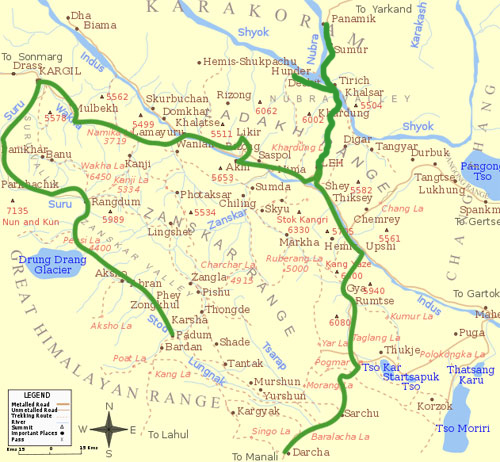 Our next stop will be Srinagar, crossing the Soji-la Pass we enter the green Kashmir arriving evening time to the beautiful city of Srinagar. We leave behind us the desert of the high mountains. Kashmir is famous since centuries for its extraordinary beauty.
In Srinagar we  stay in the deluxe Jersey House boat in Neel Lake, one of the three lakes of this beautiful and friendly city, known for its lotus floating parks and the house-boats originated from the english colonial time.
During the time of the english occupation of India, the Maharajah of Kashmir didn´t allow the english people to own any land, so the conquerors built amazing house-boats in the lakes. This tradition is going on until our days, becoming an extraordinary tourist accommodation in Srinagar.
I know the family owner since many years and I have been bringing my groups there since then. We will feel at home in a luxury accommodation.
In Srinagar we will enjoy to travel by sikara and discover the local and wild life of the lakes, with the giant lotus garden and the floating vegetable garden.
Here we say goodbye to the Himalayas and fly back to Delhi ending this spectacular and unique trip.
Many people is using this last day in Delhi to finish the shopping and enjoy the craziness of this city.